Uganda is a beautiful country that has many tourist attractions but chimpanzee tracking is one of the most exciting and fascinating experiences that you will definitely enjoy on your safari in Uganda. The impressive creatures –the chimpanzees are trekked just like gorillas and tourists spend a number of hours in the forest searching, observing and photography. However, because of conservation reasons, chimpanzee trekking is done twice a day, morning and afternoon in most chimpanzee trekking grounds in Uganda except in Kibale forest National Park where it's done thrice a day. Besides, tourist can chose to either go for chimpanzee habituation and spend the all day in company of the lovely primates or view chimpanzees in their natural habitat and spend a full good hour  with them.
The top Uganda's chimpanzee grounds where chimpanzee safaris take place include Kibale Forest National Park, Budongo Forest, and Kyambura Gorge in Queen Elizabeth National Park, Kalinzu Forest Reserve, Semliki Game Reserve and Ngamba Island in Lake Victoria where chimps are habituated after being saved from captivity.
We offer chimpanzee watching safaris in Uganda. Uganda is one of the best places in Africa where one can see chimpanzees in their natural homes. The chances of meeting these great apes are high given that high populations of chimpanzees in Uganda's tropical rain forests.
TOP CHIMPANZEE TRACKING PACKAGES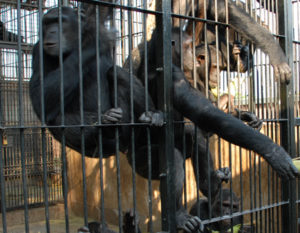 Ngamba Island Chimp Sanctuary provides all what you would like to see & know about these amazing apes. READ MORE: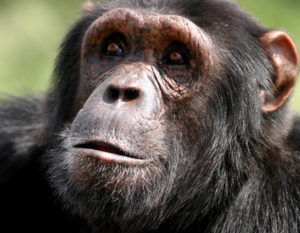 Enjoy fantastic Chimpanzee trekking in the magical forest reserve of Kalinzu just around Queen Elizabeth National Park. READ MORE: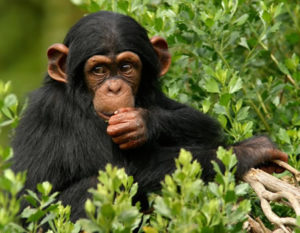 Get ready for the ultimate chimpanzee trekking adventure in the Budongo forest reserve found in Murchison falls National Park . READ MORE: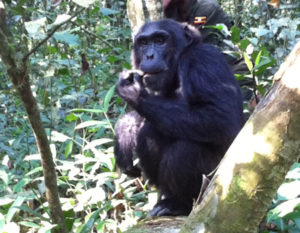 Discover the top secret of Semuliki National Park by viewing multiple primate species and nocturnal wildlife on a night game drive. READ MORE:
4 DAYS KIBALE FOREST AND NGAMBA ISLAND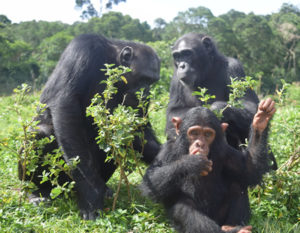 Experience with us the world renowned Chimpanzee capital, Kibale forest National Park and Ngamba Island on this trip. READ MORE:
5 DAYS CHIMP HABITUATION & GORILLA TRACKING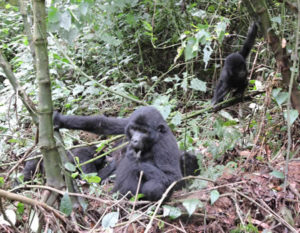 Spend a full day in a company of chimpanzees in the Kibale Forest National Park before trekking gorillas in Bwindi Forest. READ MORE: