Hiking & Mountain Climbing Safaris in Uganda
We are excited to offer you the most rewarding safari experience in Rwenzori National Park, Mountain Elgon and Mgahinga national park the top spots for Hiking and mountain climbing safaris in Uganda. Hiking and mountaineering enables you discover amazing scenery on largest mountain caldera, high volcanorange and hilly land scape. If you looking for a satisfying climb that doesn't require expert skills or equipment, Uganda has incredible short hikes that combine nature and landscape but experienced climbers can still find what fits their level.
Hiking safaris in Uganda are most done in mountain Elgon, Ruwenzori and Mgahinga National a park and it has always been awesome experience for many travelers to the country. Uganda as a country offers variety beyond the guide books but it's amazing to head out for either hiking or mountaineering safari. We design different hiking safaris based on what you want and your budget but always the final experience is rewarding.
Mountain Rwenzori
Rwenzori Mountains also known as mountain of the moon offers beautiful hiking opportunities for both experienced and un experienced hikers. Those searching for good adventure opportunities, look no further than Rwenzori Mountains. Rwenzori has always been on the wish list of many adventure travelers though many talk about mountain Kilimanjaro for having the highest peak in Africa. Lot of things will draw you to Rwenzori Mountains but the exceptional mountaineering and hiking experience is the maincore or reason for many safari tours to Rwenzori National Park.
Elgon Mountains
Mount Elgon an extinct shield volcano on the border of Uganda and Kenya was once Africa's highest mountain, far exceeding Kilimanjaro's current 5,895m, Millennia erosion that has reduced its height to 4,321m present. However, Elgon is a huge volcano with the largest crater of the major peaks in Africa and any trek or hike to the mountain is always wonderful experience to every visitor to Uganda. Also sippi falls is another bonus for all mountain Elgon safaris in Uganda.
Mount Gahinga & Volcanoes
If you happen to make it to Uganda for gorilla trekking in Mgahinga national park or for any Uganda safari tour, get the opportunity. Although Gahinga volcano is shared by Rwanda two neighboring countries, Uganda and Rwanda its hiking safaris are perfectly experienced in Uganda. Three Gahinga volcanoes in Mgahinga national park offers the best hiking safari experience to whoever visits the park for either hiking, gorilla trekking and golden monkey trek.
OUR HIKING SAFARIS INCLUDE:
4 DAYS MGAHINGA VOLCANOES HIKING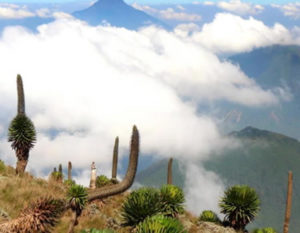 Spend you summer holiday exploring the beautiful three volcanoes of Gahinga and the exciting Batwa trail on this trip. READ MORE:
7 DAYS MOUNT RWENZORI HIKE & GORILLA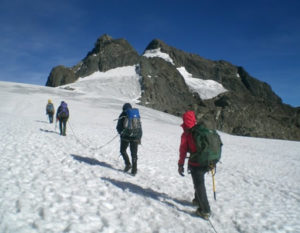 Hike the rewarding mountain of Rwenzori and feel the thrill of incredible landscape before tracking Gorillas in Bwindi forest. READ MORE: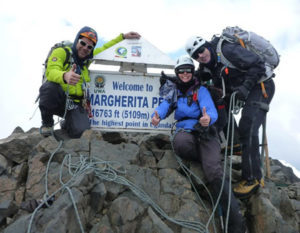 Stand at the top of Margherita peak and look at the rolling landscape and breath taking views of the surroundings of Mount Rwenzori.  READ MORE: